Pool Builder in Pflugerville, TX
Many Texas homeowners agree that the pool makes the perfect addition to their homes to spend time unwinding or enjoying family and friends. However, not all pools are alike, as each type of pool has its features and nuances.
You need to select the right swimming pool design and type to fit your yard based on your preferences and location.
This is why you must choose the right Pflugerville pool builders for the job.
You need to select a pool building company having the skills and experience to complete your pool on time and done right.
We at Open Water Pools are professionals with more than 37 years of experience building custom pools and installing, maintaining, and renovating all types of swimming pools across Cedar Park.
We can help with your modest, luxurious, or extensive project and ensure you get the exact pool you have always dreamed of having at your home. We take the time to listen to your goals and devise a pool design and building plan that will best help you accomplish your goals. It's our way of ensuring you have the most pleasant and thorough pool-building experience possible in Texas.
Contact your Austin pool builder today at 512-548-6166 for any pool renovations, building, or installation and to make your dream pool building dream a reality.
How We Can Help With a New Swimming Pool

If you don't know where to start, turn to us to make your pool dream a reality. We at Open Water Pools are here to help by:
Scheduling a consultation where our pool designer can design the perfect pool design based on your property size, shape, and landscape.
Providing an average cost for your pool based on material, labor, and skill costs.
Starting the pool building process once you approve the estimate
Digging the pool using earthmoving equipment
Placing steel reinforcing bars, drains, pipes, and conduits to install, test, and approve utilities
Transforming the pool construction site to a pool by installing tiles and coping
Completing the pool decking and plastering process
Filling up the pool and adding water chemicals to get the appropriate levels rendering the pool safe for you to use.
Your Pflugerville swimming pool builder will do everything possible to ensure you get your dream pool and no time. Our mission lies in sticking to your budget and using the best quality materials for the entire pool building process.
Call Us Today For a Swimming Pool Consultation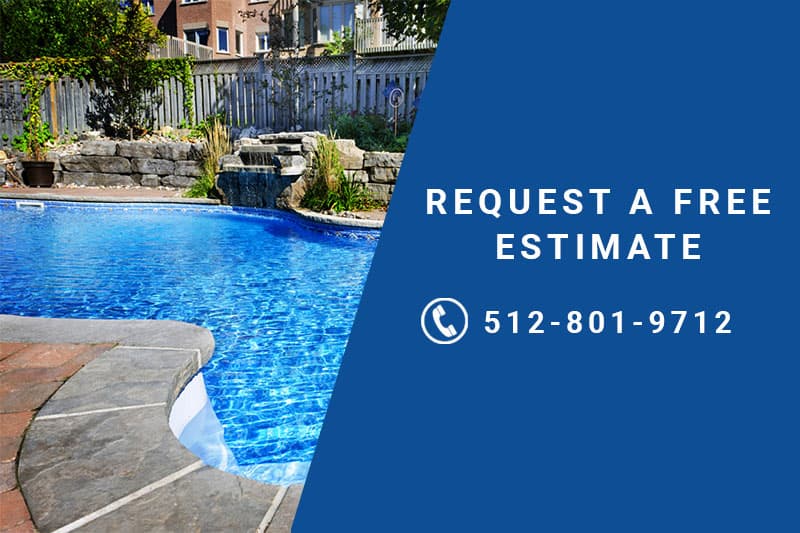 Are you ready to build your dream customized swimming pool?
If yes, don't waste any more time calling your premier swimming pool construction company in Pflugerville, TX. We provide an informative, personalized, and happy pool building process using the latest pool building technology and trends.
Our vision lies in letting each customer of ours be able to spend years of enjoyment in their backyard inground swimming pools. You can always contact our friendly and courteous support staff to answer any queries and concerns you may have.
It's our way of ensuring you are happy with our services.
You, the customer, are always first at Open Water Pools. We construct your new swimming pool based on each customer's needs and wants so that you make valuable memories in your swimming pool.
Now don't waste any more time than necessary.
Start making your dream of a pool a reality by contacting your Pflugerville pool builder today at 512-548-6166. We will schedule an appointment for any pool renovations, building, or installation, to finally make your dream pool a reality.