Pool Builder Liberty Hill TX
At Open Water Pools, we are a full-service pool builder located in Liberty Hill, Texas. We specialize in designing and building custom swimming pools as well as incredible outdoor living areas that are specially designed to satisfy the individual requirements of each of our clients. Our group of skilled pool construction experts is committed to delivering high-quality craftsmanship, exceptional customer service, and competitive pricing.
What Makes Pool Builders in Liberty Hill TX Unique?
What sets us apart from other pool builders in Liberty Hill is our commitment to providing our clients with personalized attention and tailored solutions. We give the wants and needs of our customers the attention they deserve and work closely with them throughout the entire custom pool design and construction project in order to guarantee that every element is ideal. Our team also uses the latest technology and materials to ensure that every pool we build is energy-efficient, low-maintenance, and built to last.
At Open Water Pools, we are aware that every customer has different needs and preferences when it comes to their custom Liberty Hill swimming pool. Because of this, we provide a completely customized experience, from the first meeting to the finishing touches. Our expert designers will work with you to create a pool that perfectly fits your style, budget, and space. We also provide 3D renderings of the design to give you a clear idea of what your pool will look like once it's built.
Additionally, we believe in using only the best quality materials and technology to ensure that your pool is both sturdy and simple to maintain in addition to being stunning visually. We are constantly updating our techniques and products to provide our clients with the latest innovations in the pool industry. Our group of specialists is very knowledgeable and experienced in all facets of pool construction and maintenance, so you can trust that your pool is in good hands with us.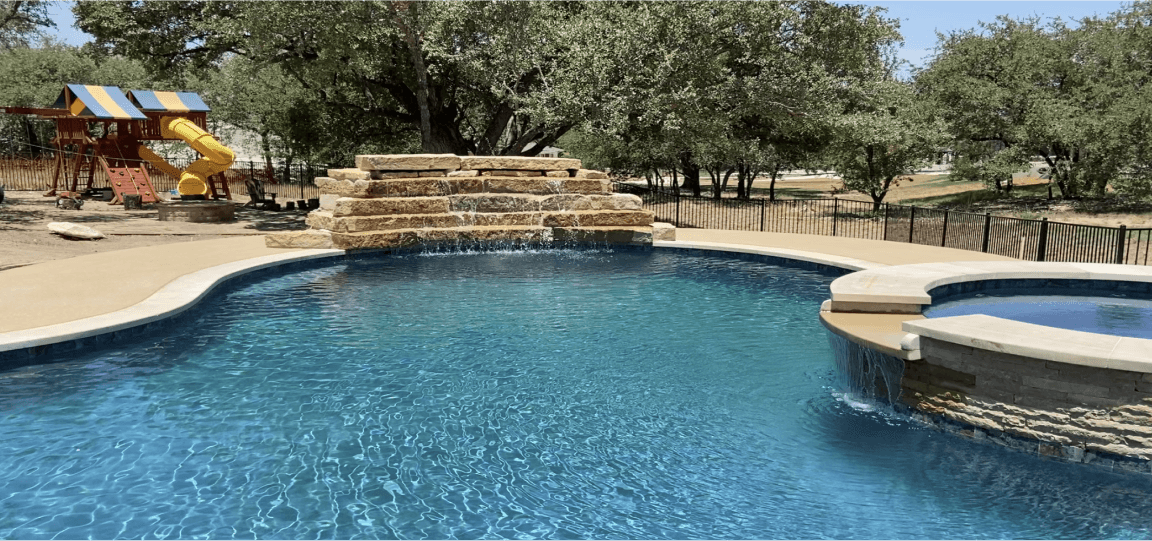 Benefits of Working With Pool Builders in Liberty Hill TX
Working with Open Water Pools comes with a variety of benefits, including access to our team of experienced professionals, competitive pricing, and a commitment to delivering exceptional customer service. We also offer a variety of customizable options for every pool we build, including water features, lighting, and landscaping.
In addition to these benefits, working with Open Water Pools in Liberty Hill, Texas means you can trust that your pool will be built to the highest quality standards. We exclusively work with the highest quality supplies and tools to build pools that are not only gorgeous but also strong and long-lasting. Our team is dedicated to ensuring that every detail of your pool is perfect, from the design to the construction to the finishing touches.
Furthermore, we understand that building a custom pool may be a big commitment, so we collaborate with our customers to find the best financing options available. We offer competitive pricing and will work within your budget to create a pool that meets your needs and exceeds your expectations.
What to Look for in a Pool Builder
When choosing a pool builder, it is crucial to find a professional team that has a history of producing work of a high caliber, has experience building pools in your area, and offers competitive pricing. You should also look for a company that offers a variety of customizable options and exceptional customer service.
It is also important to consider the licensing and insurance of the pool builder. A reputable pool builder should be properly licensed and insured to ensure that they are operating legally and that your property is protected in the event of any accidents or damages during construction. It is also helpful to read reviews and testimonials from previous clients to gauge the level of satisfaction with the builder's work and customer service.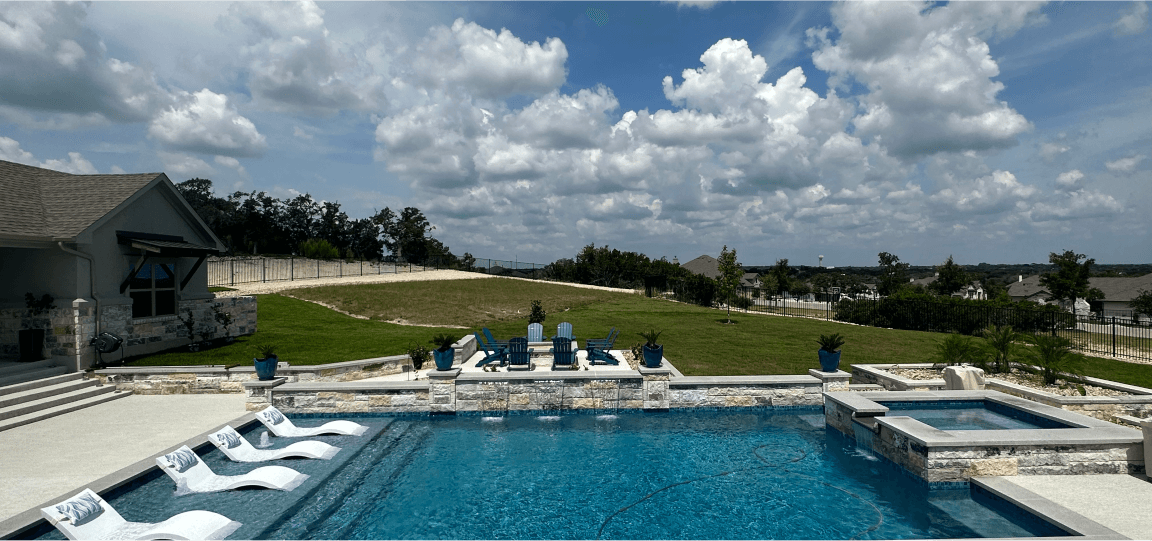 Liberty Hill Swimming Pool Builder & Construction
At Open Water Pools, we offer a wide range of swimming pool build and construction services in Liberty Hill and other cities across Texas. Our team of experts can help you design and build the perfect pool for your needs, whether you are looking for a traditional lap pool or a more elaborate design with custom features.
As a trusted swimming pool builder and construction company in Liberty Hill, Open Water Pools takes pride in providing a full range of services to our clients. We offer everything from the initial design consultation to the final construction and installation of your new pool. Our reliable crew of professionals has extensive and valuable experience in the industry and uses nothing but the best quality resources and equipment so that your pool is built to last.
Custom Pool Shapes & Builds
We specialize in creating custom pool shapes and builds that are tailored to meet the unique desires of each of our clients. From infinity edge pools to beach entry pools, we offer a wide range of customizable options to help you create the perfect outdoor living space for your home.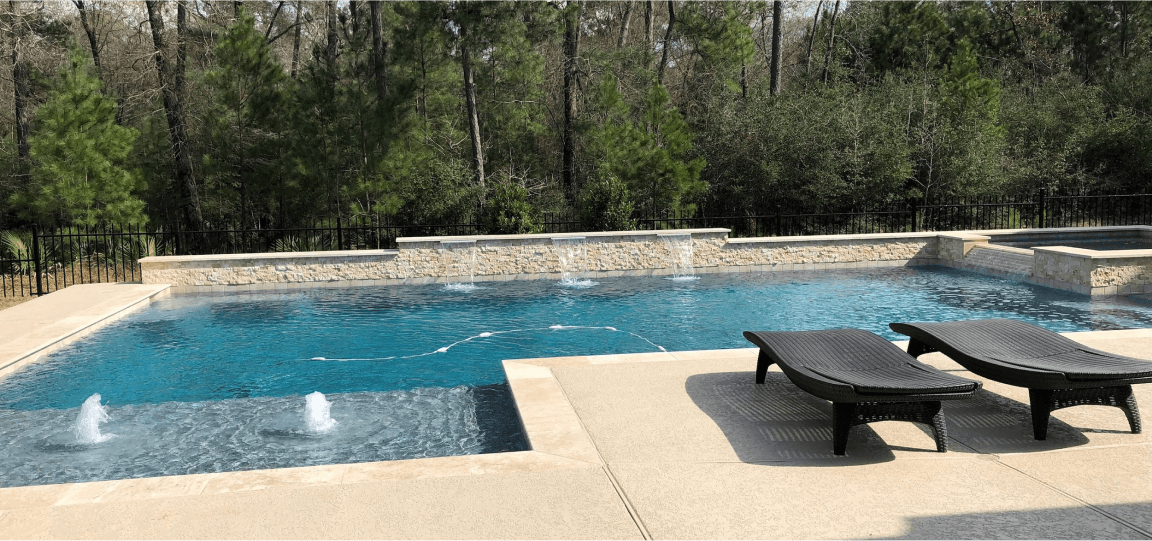 Contact Us Today
If you are looking for a reliable and experienced pool builder in Liberty Hill, Texas, look no further than Open Water Pools. To arrange a consultation and find out more about our custom pool building services offered in and around Liberty Hill, get in touch with us right away. We are eager to work with you to design and construct the outdoor living area that you desire.