Living in Austin comes with the advantage of enjoying an almost year-long summer. 
Even December is suitable for taking a dip on most days. That's why owning a pool is almost implied by the climate. Kicking back with your friends or family by the pool is one of the healthiest ways to blow off steam - literally and figuratively. So the setting needs to look top-notch…and be just as safe. 
The first image that strikes the eye is the emerald blue pattern of the glistening water. Sure, the sunrays dance off every moving water drop just right. But this is usually enhanced by the decking around the water. 
Think of the decking as the make-up on a beautiful woman. If a pair of ocean-blue eyes strike you as breathtaking, she has probably put in a lot of effort to make them stand out by tastefully and tactically using make-up around them. And of course she used some high-quality beauty products so the make-up doesn't wear off or affect the skin quality in any way. 
If you invest in treating your pool water right, you will need dependable decking to not only turn stares, but to also help with the overall pool maintenance and safety of your guests. Let Open Water Pools & Spas make the whole process easy and affordable for you.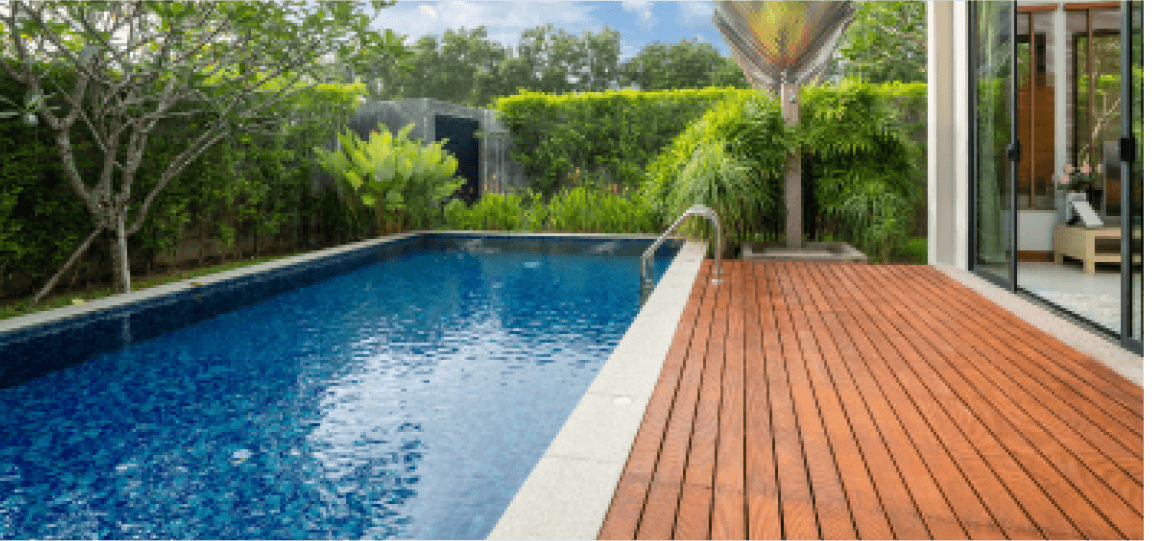 Deciding on the Right Pool Deck
The decking around your swimming pool makes the pool the focal point in your outdoor area. It defines the style of your property, which in turn defines your tastes and vision. The last thing you want is for that to be stained by hasty and misbudgeted decisions. 
When deciding upon the right pool decking material for you, take the whole outdoor area into consideration. Be pragmatic. 
Will you be hanging out on a lounge chair enjoying a cocktail in the sun? 
Will you be doing your reading or working from home, which means turning the area into more of an outer office? 
Will it be an ideal meeting spot with clients or a get-together spot with friends and family after work? 
Will kids and pets also be using the pool and surrounding area?
Factors to Consider
Based on the answers to the questions above - and hopefully more - it will be easier to decide if you need bigger or smaller tables, multiple chairs, shade havens, lounges, storage spaces for toys or outdoor fridges, and so on. The budget needs to be carefully planned out with your family first, before deciding on the style of decking most suitable for your property.
Once you've reached the stage of needing a rough estimate on how much a complete pool deck installation would cost, keep in mind some factors that are characteristic to each material type. 
Heat Resistance
If your backyard is positioned so that the heat from the sun becomes unbearable during the warm months, decide upon a material that won't get affected by the heat. Colors can fade away and even the material itself can wear out on some materials when in direct contact with massive heat. 
Even for walking barefoot, make sure the chosen material won't cause your soles to smell like funky barbecue everytime you try to walk across your backyard. Those situations have to stay in cartoons. Opt for a material that provides good heat resistance as well as heat reflection, which is particularly important in Austin.
Get Started Building Your Dream Pool!
Open Water Pools
Top Rated Pool Builder in Austin, TX
Get a Free Quote
Slip Factor
It's safe to say that if you have a pool in your backyard, you will be doing most of the walking barefoot, or with slippers. Some pool deck materials can be more slippery than others. Instead of treading on the ground like you're trying to avoid banana peels, opt for a material that has a reduced slip factor. 
Overall Maintenance
There is no way of avoiding pool and deck maintenance. That is unfortunately part of a yearly budget you have to consider as a pool owner. There are, however, easier-to-maintain deck materials - like pavers, which essentially require 0 maintenance. Whereas wooden decks are quite a hassle to maintain. 
Based on what budget you allocate for yearly overall maintenance, as well as how much time you dedicate, choose a deck material that requires lighter maintenance. 
Look
This might seem like a no-brainer, but not everyone has a sharp designer's eye. It also isn't worth going for the cheapest, safest, and least maintenance-pretentious deck style if it looks tasteless or downright bad. Afterall, the look of a pool serves the eyes more than it actually serves the body in swimming time. After how much you have invested in the pool, it would be a pity if it doesn't look like a dream oasis. 
Price 
The price of a pool deck also implies future annual costs for maintenance, aside from what you invest in its installation. It is ideal to opt for a durable material so that you won't have to worry about upgrades too often. This is an important discussion to have with your spouse or family. Owning a pool is no joke when it comes to recurring bills.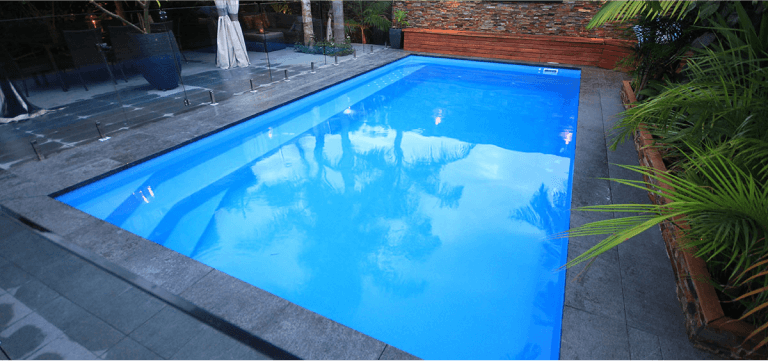 Types of Pool Decks
Let's cut to the chase and list some of the most popular decking options. These are:
pattern concrete
wood
pavers
flagstone
pea gravel
Each of these materials have pros and cons, which you should discuss with your pool deck expert. Easier yet, give Open Water Pools & Spas a call at 512-548-6166, or write to us using our contact form. 
Concrete
Concrete pool decking is the most versatile choice. You can create all sorts of patterns and choose from a wide range of colors in order to customize the look of your pool deck as specifically as possible. 
On top of that, concrete pool decks are easy to maintain and have a good heat reflection. When it comes to slip resistance, consider implementing a certain texture in your design in order for higher adherence.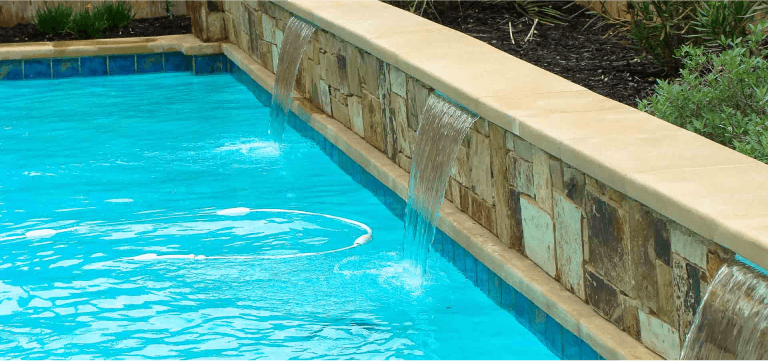 Wood
Among the most stylish and elegant choices are wood decks. Above-ground as well as inground pool owners find them very popular, and they are quite affordable. They do require regular (seasonal) maintenance such as sanding, cleaning, and sealing. 
Pavers
Similar to concrete, pavers are highly customizable and come at a more affordable price. Heat resistance and slip factor score well with pavers and they are easily replaceable. However, in order to prevent shifting, pavers require a permanent frame which can drive up the maintenance cost in time. 
Stone
With its natural and rustic look, stone can give a classy, sturdy, or even luxurious aspect to the overall look. Safety is an important factor to consider when choosing the right stone texture. Make sure that the texture isn't too dark, otherwise the stone can become quite hot when exposed to heat. Be careful when choosing darker stones as they may become too hot when in the sun.
Limestone or travertine are great choices because they are up to 30% cooler than other stone options, though the same light color criteria applies. 
Flagstone is a greater water-absorbent than concrete or pavers. It also won't fade in the near future and will last you a very long time. 
Brick
Bricks are easy to maintain but be careful for moss not to start growing on your brick deck. Nobody wants that level of slippery danger. Other than that, there are lots of colors to choose from and bricks are easy to replace if need be.
Tile
You might think that choosing tile as your deck material is a slipping tragedy pending to happen. You could be right, but with the right deck coating, you can obtain a seamless, luxurious look while not worrying about a slippery surface. Or you could opt for porcelain tiles which are as strong and flexible as they are slip-resistant. Tile is highly durable and requires a minimum amount of maintenance. That's probably why it is increasing in popularity, especially in the Austin area.
The Best Pool Deck for You
Even after all of this information, there is no right or wrong answer to what the best pool deck material is best suited for your outdoor pool. For the most personalized answer, talk to a pool deck expert, have them come over and assess the situation, and get a clearer idea of what you need as well as what you can financially support. 
With today's competitive pricing, all companies want what is best for you. But Open Water Pools & Spas is the number 1 rated custom pool builder in Austin, so you can be sure we will provide you with the very best. This work ethic and enthusiasm is what helped us rise up to this status and we would be glad to help you make the best decision.
Call Open Water Pools & Spas at 512-548-6166, or write to us using our contact form and we will get in touch as soon as possible.